The Two Volcano Sprint is a single-stage, unsupported bicycle challenge starting and finishing at south Italy's two iconic volcanoes, Mt. Vesuvio and Mt. Etna. The route crosses the panoramic Amalfi and Cilento coastline before heading into the Appenine mountains and descending finally into Sicily. With just over 1,ooo kilometers and 24,000+ meters of elevation gain, the 2VS is a challenge for even the strongest of cyclists.
The 2VS 2020 starts on Sunday, October 18th,  at 05:30am. 
As with all self-supported adventure races, the rules are simple. Riders must cycle the fixed GPX route completely self-powered and unassisted, carrying their own gear and acquiring any food, water, resources or lodgings at commercially available services. Riders must carry a GPS tracker, that should be turned on at all times. Drafting is not permitted unless riding in a pair. To make the finisher's party, riders must complete the course within 110 hours. There is no prize money or reward for riders except the satisfaction of having pushed their legs and limits, explored another part of this planet and contributed towards improving the lives of people living on it.
The Two Volcano Sprint is a not-for-profit event promoting eco-sustainability in south Italy. Thanks to sponsors covering organizational costs, 100% of the riders' entry fees, after tracker rental, go towards an annual sponsorship grant. Every year, the 2VS association offers this grant to a project, initiative or service that positively impacts nature preservation, environmental sustainability, or climate action, while boosting economic growth for local communities
Annual sponsorship award project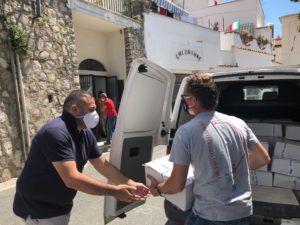 The Davida Association
is a non-profit company that has recently started a collection project purchasing food parcels to be distributed throughout the Napoli/Salerno region where there is most need. The 2 Volcano Sprint was created to reinforce this not-for-profit organisation, using participants' registration fees to fund an annual project focused on eco-sustainability in southern Italy. In light of this global pandemic,
the funds raised from the first 2VS edition last November, together with those from this year's registrations, are going towards supporting families and individuals whose livelihoods have been worst affected by the Covid-19 lockdown.
       A €50 package includes foodstuffs that can sustain a family of 4 living under difficult conditions for a week. Each of these packages is important not only for their fundamental supplies, but also the powerful symbolic value they carry, knowing there are people out there who care. The parcels are purchased and delivered by us personally to accredited distribution organizations, without any intermediary.
        In these trying times, helping others in need is its own reward. If you are not able to participate in the cycling event, but would like to contribute towards our project, donating is simple: click on the button below to donate.
From the bottom of our hearts, thank you.
Position
Start #
Name
Result
AVG Speed
Distance
Finish
Segment Time
1
16
Ulrich Bartholmoes
52 hrs 53 mins
19.55 KM/H
1039 KM
10:23 20-10-2020
52 hrs 53 mins
2
46
Sofiane Sehili
55 hrs 13 mins
18.78 KM/H
1039 KM
12:43 20-10-2020
55 hrs 13 mins
3
39
Omar Di Felice
55 hrs 49 mins
18.61 KM/H
1039 KM
13:19 20-10-2020
55 hrs 49 mins
4
32
Cristian Auriemma
59 hrs 54 mins
17.32 KM/H
1039 KM
17:24 20-10-2020
59 hrs 54 mins
5
40
Kim Raeymaekers
60 hrs 55 mins
17.05 KM/H
1039 KM
18:25 20-10-2020
60 hrs 55 mins
6
43
Lukas Neubeck
60 hrs 57 mins
16.96 KM/H
1039 KM
18:27 20-10-2020
60 hrs 57 mins
7
37
Manuel Truccolo
62 hrs 57 mins
16.46 KM/H
1039 KM
20:27 20-10-2020
62 hrs 57 mins
8
21
Andrew Phillips
64 hrs 5 mins
16.15 KM/H
1039 KM
21:35 20-10-2020
64 hrs 5 mins
9
15
Adrien Liechti
67 hrs 14 mins
15.39 KM/H
1039 KM
00:44 21-10-2020
67 hrs 14 mins
10
18
Anabell Orenz
70 hrs 25 mins
14.74 KM/H
1039 KM
03:55 21-10-2020
70 hrs 25 mins
11
58
Robert Britton
73 hrs 38 mins
14.11 KM/H
1039 KM
07:08 21-10-2020
73 hrs 38 mins
12
38
Fanny Bensussan
74 hrs
14.04 KM/H
1039 KM
07:30 21-10-2020
74 hrs
13
54
Christoph Fuhrbach
74 hrs 27 mins
13.9 KM/H
1039 KM
07:57 21-10-2020
74 hrs 27 mins
14
45
Max Riese
76 hrs 20 mins
13.57 KM/H
1039 KM
09:50 21-10-2020
76 hrs 20 mins
15
48
Robert Gardiner
77 hrs 39 mins
13.38 KM/H
1039 KM
11:09 21-10-2020
77 hrs 39 mins
16
42
Bruno Ferraro
78 hrs 7 mins
13.26 KM/H
1039 KM
11:37 21-10-2020
78 hrs 7 mins
17
49
Jörg-Ingo Scheffel
79 hrs 8 mins
13.13 KM/H
1039 KM
12:38 21-10-2020
79 hrs 8 mins
18
63
Raphael Albrecht
81 hrs 9 mins
12.8 KM/H
1039 KM
14:39 21-10-2020
81 hrs 9 mins
19
19
Peter Batt
81 hrs 35 mins
12.74 KM/H
1039 KM
15:05 21-10-2020
81 hrs 35 mins
20
13
Thomas Ceyrowsky
84 hrs 10 mins
12.31 KM/H
1039 KM
17:40 21-10-2020
84 hrs 10 mins
21
44
Niel Copeland
87 hrs 14 mins
11.88 KM/H
1039 KM
20:44 21-10-2020
87 hrs 14 mins
22
20
Nicola Shaw
89 hrs 42 mins
11.56 KM/H
1039 KM
23:12 21-10-2020
89 hrs 42 mins
23
60
Julien Gravaud
91 hrs 5 mins
11.41 KM/H
1039 KM
00:35 22-10-2020
91 hrs 5 mins
24
12
Markus Kroell
91 hrs 12 mins
11.39 KM/H
1039 KM
00:42 22-10-2020
91 hrs 12 mins
25
11
Adrian O'Sullivan
102 hrs 33 mins
10.11 KM/H
1039 KM
12:03 22-10-2020
102 hrs 33 mins
26
56
Matthieu Lifschitz
103 hrs 6 mins
10.06 KM/H
1039 KM
12:36 22-10-2020
103 hrs 6 mins
27
27
Frank Scholler
103 hrs 30 mins
10.03 KM/H
1039 KM
13:00 22-10-2020
103 hrs 30 mins
28
50
Marina Sonzogni
103 hrs 33 mins
10.03 KM/H
1039 KM
13:03 22-10-2020
103 hrs 33 mins
29
57
Cédric Sion
107 hrs 25 mins
9.67 KM/H
1039 KM
16:55 22-10-2020
107 hrs 25 mins
30
22
Thomas Chateau
107 hrs 33 mins
9.64 KM/H
1039 KM
17:03 22-10-2020
107 hrs 33 mins
31
17
Kamil Prusinowski
108 hrs 4 mins
9.61 KM/H
1039 KM
17:34 22-10-2020
108 hrs 4 mins
32
33
Patrick Doupe
108 hrs 25 mins
9.58 KM/H
1039 KM
17:55 22-10-2020
108 hrs 25 mins
33
35
Luigi Valiante
108 hrs 51 mins
9.54 KM/H
1039 KM
18:21 22-10-2020
108 hrs 51 mins
34
34
Pamela Cepparulo
108 hrs 57 mins
9.53 KM/H
1039 KM
18:27 22-10-2020
108 hrs 57 mins
35
23
Tom Van Hout
111 hrs 30 mins
9.29 KM/H
1039 KM
21:00 22-10-2020
111 hrs 30 mins
36
29
Giampiero Monti
120 hrs 15 mins
8.94 KM/H
1039 KM
00:15 23-10-2020
120 hrs 15 mins
37
26
John Cooke
null KM/H
 KM
DNF
38
24
Witold Bonnard
KM
DNF
39
64
Salvatore Marrone
null KM/H
838 KM
DNF
40
30
Derek Gamblin
null KM/H
758 KM
DNF
41
51
Dominik Roels
null KM/H
489 KM
DNF
42
54
James Hayden

 

21.53 KM/H
386 KM
DNF
43
47
Stephane Ouaja

 

19.39 KM/H
322 KM
DNF
44
10
India Landy

 

null KM/H
310 KM
DNF
45
61
Joe Rass-Court

 

24.45 KM/H
271 KM
DNF
46
62
Robert Krügel

 

0.26 KM/H
17 KM
DNF
–
09
Peter Boynton

(DNS)

0 KM/H
0 KM
DNS
–
14
Bryan Averre

(DNS)

0 KM/H
0 KM
DNS
–
25
Fiona Kolbinger

(DNS)

0 KM/H
0 KM
DNS
–
28
Paul Gannon

(DNS)

0 KM/H
0 KM
DNS
–
31
Giulio Minniti

(DNS)

0 KM/H
0 KM
DNS
–
36
Andrea Seiermann

(DNS)

0 KM/H
0 KM
DNS
–
41
Hashim Hassan

(DNS)

0 KM/H
0 KM
DNS
–
55
Lisa Grützmacher

(DNS)

0 KM/H
0 KM
DNS
–
59
Daan Marsmans

(DNS)

0 KM/H
0 KM
DNS
Position
Start #
Name
Result
AVG Speed
Distance
Finish
Segment Time
1
67b
Mahe Clement
63 hrs 45 mins
16.25 KM/H
1039 KM
21:15 20-10-2020
63 hrs 45 mins
2
67a
Jordan Gueguen
63 hrs 49 mins
16.26 KM/H
1039 KM
21:19 20-10-2020
63 hrs 49 mins
3
68a
Ruth Linton
139 hrs 05 mins
7.7 KM/H
1004 KM
19:05 23-10-2020
139 hrs 05 mins
4
68b
Naomi Linton
139 hrs 05 mins
7.77 KM/H
880 KM
19:05 23-10-2020
139 hrs 05 mins
5
65a
Gerco Beekhof

 

11.58 KM/H
327 KM
DNF
6
65b
Anouk van Haare

 

10.86 KM/H
316 KM
DNF