The Two Volcano Sprint is a single-stage, self-supported bicycle challenge starting and finishing at south Italy's two iconic volcanoes, Mt. Vesuvio and Mt. Etna. The route crosses through National Parks, rural mountain villages, Calabrese forests, the panoramic Amalfi and Cilento coastline and the Appenine mountain range. 
The next 2VS event will take place in 2024
As with all self-supported adventure races, riders must cycle the fixed GPX route completely self-powered and unassisted, carrying their own gear and acquiring any food, water, resources or lodgings at commercially available services. Riders must carry a GPS tracker, that should be turned on at all times. Drafting is not permitted unless riding in a pair. There is no prize money or reward for participants except the satisfaction of having pushed their legs and limits, explored another part of this planet and contributed towards improving the lives of people living on it.
The Two Volcano Sprint is a not-for-profit event promoting eco-sustainability in south Italy. Thanks to sponsors covering organizational costs, 100% of the riders' entry fees, after tracker rental, go towards an annual sponsorship grant. Every year, the 2VS association offers this grant to a project, initiative or service that positively impacts nature preservation, environmental sustainability, or climate action, while boosting economic growth for local communities
Annual sponsorship award project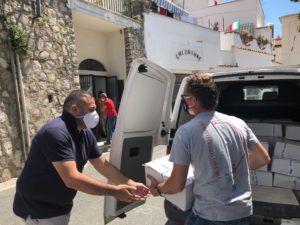 The Davida Association
is a non-profit company that started a collection project purchasing food parcels and supplies distributed throughout the Napoli/Salerno region during the Covid-19 lockdowns. The Two Volcano Sprint was created to reinforce this not-for-profit organisation, using participants' registration fees to fund an annual project focused on eco-sustainability and education in southern Italy.
In light of the global pandemic, funding raised from the 2VS events of 2019 – 2021 went towards supporting families and individuals whose livelihoods were affected by the Covid-19 lockdown. Three truck loads of care packages with enough supplies to sustain families and individuals living under difficult conditions for a week, were distributed throughout the first half of 2020. Eight tons of canned and dry supplies were donated in the first half of 2021.
The not-for-profit purchased and distributed close to one hundred tablets to schools in the communities of Ercolano and Nicolosi, for children without a computer or tablet for online learning after schools across Italy shut down.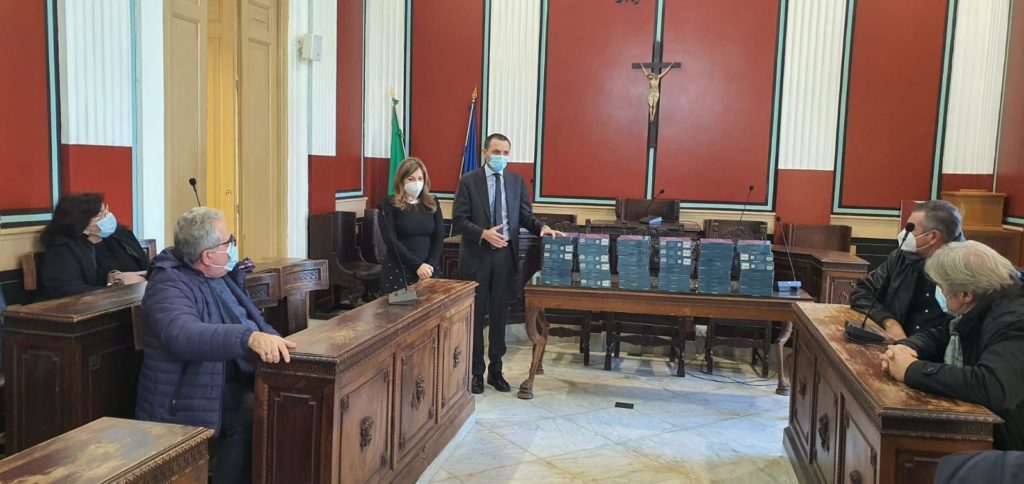 All parcels, tablets and supplies were purchased and delivered by the 2VS team personally and given directly to accredited distribution organizations, without any intermediary.
The 2022 event sponsored the building of a playground for an underprivileged primary school in Catanzaro, where children have been forced to remain indoors due to the lack of an  outside play area. The project is being realised by architect Annamaria Corrado.
If you are not able to participate in the cycling event, but would like to contribute towards our projects, you can donate directly through Paypal using the 2VS email: twovolcanosprint@gmail.com
| | | | |
| --- | --- | --- | --- |
| Position | Start # | Name | Result |
| 1 | 53 | Pier Francesco Santin | 105 hrs 47 mins |
| 2 | 97 | Robert Mueller | 109 hrs 1 min |
| 3 | 69 | Sebastian Sarx | 112 hrs 11 mins |
| 4 | 94 | Bruno Wicht | 112 hrs 54 mins |
| 5 | 92 | Anatole Naimi | 118 hrs 47 mins |
| 6 | 96 | Nahuel Passerat | 119 hrs 6 mins |
| 7 | 95 | Paul Niehoff | 121 hrs 27 mins |
| 8 | 24 | Cristian Auriemma | 127 hrs 32 mins |
| 9 | 90 | Kilian Wagner | 130 hrs 8 mins |
| 10 | 91 | Leonard V. Hammerstein | 133 hrs 13 mins |
| 11 | 20 | Robert Reinecke | 133 hrs 16 mins |
| 12 | 78 | Filippo Nicoli | 146 hrs 37 mins |
| 13 | 29 | Andrea Boscolo | 148 hrs 6 mins |
| 14 | 45 | Luís Luz | 148 hrs 55 mins |
| 15 | 52 | Martijn Driedonks | 152 hrs 56 mins |
| 16 | 84 | Victor Eklund | 153 hrs 28 mins |
| 17 | 34 | Boye Rijs | 154 hrs 50 mins |
| 18 | 33 | Christophe Claris | 155 hrs 17 mins |
| 19 | 86 | Erik Price | 155 hrs 52 mins |
| 20 | 39 | Nico Couckuyt | 156 hrs 4 mins |
| 21 | 66 | Maria Minervino | 158 hrs 1 min |
| 22 | 23 | Per Arne Janssen | 160 hrs 25 mins |
| 23 | 14 | Gernot Stenz | 173 hrs 16 mins |
| 24 | 81 | Denise Vorberg | 175 hrs 7 mins |
| 25 | 67 | Renato Caudullo | 176 hrs 59 mins |
| 26 | 43 | Eddie Kouiss | 178 hrs 10 mins |
| 27 | 93 | Rik Van Huik | 179 hrs 56 mins |
| 28 | 28 | Frieder Backu | 181 hrs 44 mins |
| 29 | 70 | Filippo Nicotra | 181 hrs 50 mins |
| 30 | 57 | Hashim Hassan | 208 hrs 4 mins |
| 31 | 58 | Martin Mcshane | 225 hrs 37 mins |
| 32 | 17 | Laurent Niederst | 230 hrs 28 mins |
| | | | |
| | | | |
| Position | Start # | Name | Result |
| 1st | 101a | John Holden | 206 hrs 1 min |
| 2nd | 101b | Ian Appleby | 206 hrs 2 mins |